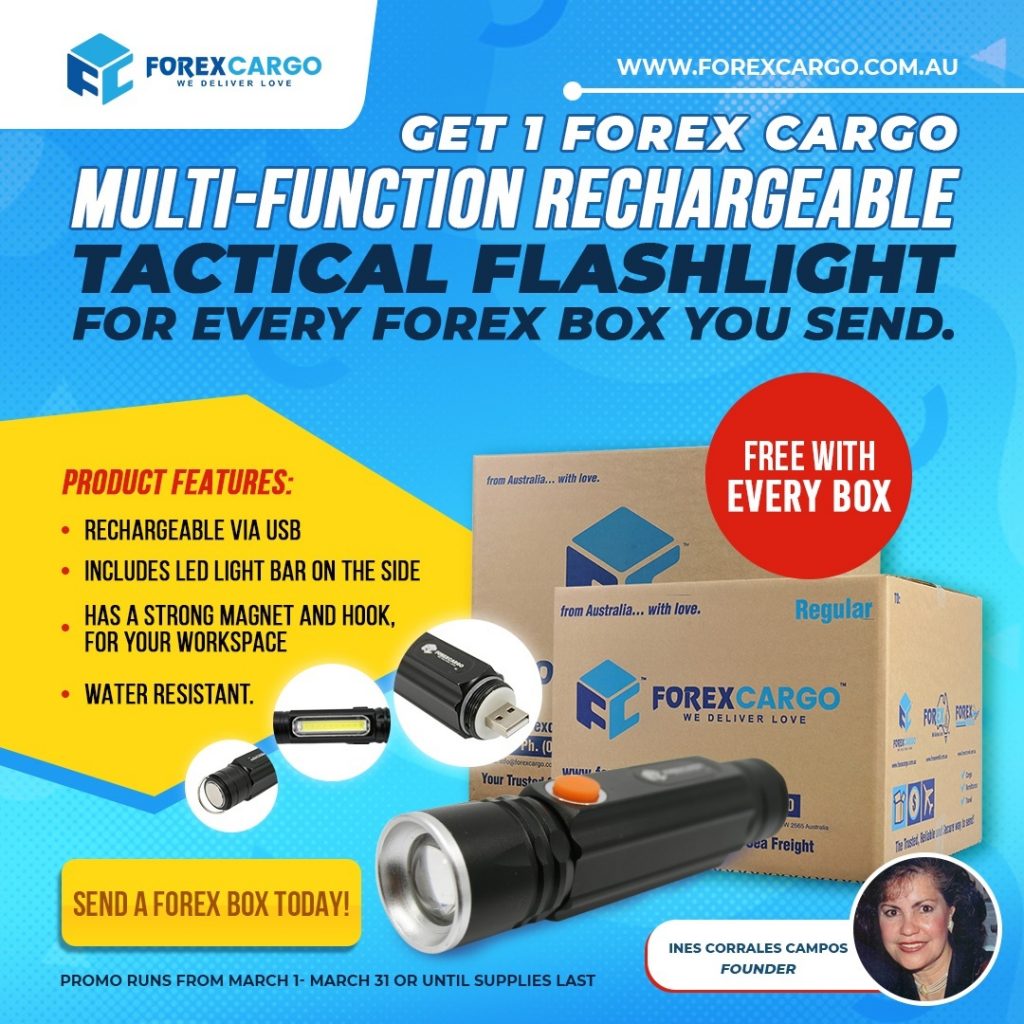 March is a very special month to the Forex family and this year more especially as this marks the 20th anniversary of the passing of its founder Mrs. Ines Corrales Campos. The Campos family has gone on to continue the service and legacy of Forex World and Forex Cargo through the vision and traditions of family handed down by Ines all those years ago.
We would like to celebrate this very special occasion with our Ines Corrales Campos 20th anniversary giveaway.
Receive 1 FREE Forex Cargo Multi-Function Tactical Flashlight for every balikbayan box sent during March 2021 (March 1, 2021, to March 31, 2021) or until stocks last. Stocks are limited and will no longer be available once it runs out. Promo item will be given at the time of pick up.
Product Features:
Rechargeable Tactical Flashlight
Direct USB recharge so no cables required.
Powerful battery can handle over 1000 cycles of recharge.
Telescopic Beam Slider to adjust from wide burst to a focused light beam.
Includes unique LED Light Bar on the side of the Flashlight.
Strong magnet for easy attachment onto metal around your work space (car, boat, bike and more)
Ergonomic design, making it easy and comfortable to hold for extended periods of time.
Hook right for each carry or hang at work space or for storage.
Water Resistant.
Flashlight modes: High Beam, Low Beam, Flash Beam
Light Bar: High Beam and Low Beam.
Order your Forex Balikbayan Box Now!
Call us at the following numbers:
New South Wales, Australia Capital Territory: 02 87770000
South Australia, Northern Territory, Western Australia: 08 6393 7200
Queensland: 07 3463 8809
Victoria and Tasmania: 03 8736 7687
Email us at customercare@forexcargo.com.au, or order online via our website https://www.forexcargo.com.au .