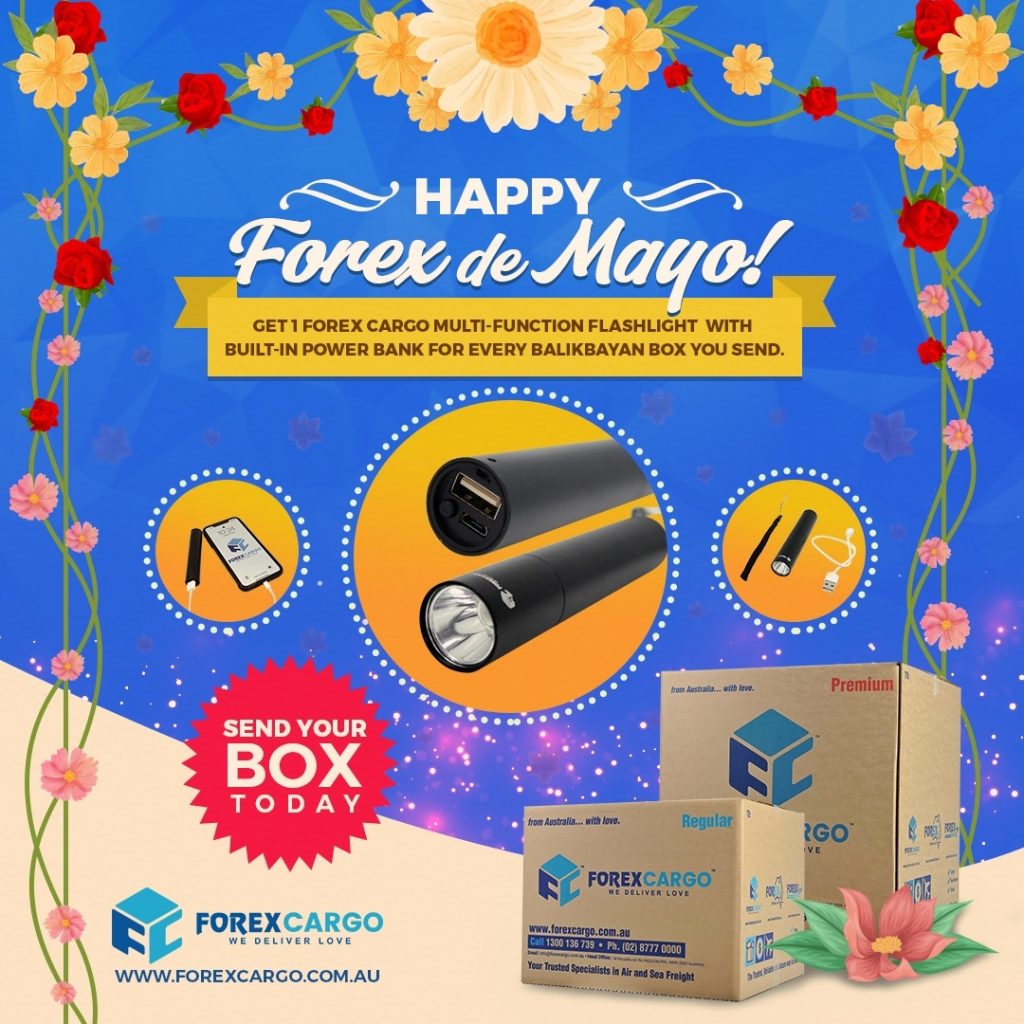 It is that time of the year once again! Forex Cargo is happy to announce the release of our Annual Forex De Mayo Giveaway.
Forex would like to wish you all a Happy Forex De Mayo! In the Philippines this month is a wondrous Celebration of Spring, as the vibrant colours of our native Philippine flowers flourish in season and we call Flores De Mayo. Halfway across the globe, we too want to celebrate this special time with you and your loved-ones by giving a gift for those sending Balikbayan boxes back home this month.
During the month of May 2021, Forex will be giving away 1 x Forex Cargo Multi-function Flash Light uniquely designed with Built-in Power Bank! You will receive one of these for every Forex Cargo Balikbayan box sent during the promo period. This Flash Light not only lights up the darkest of spaces but will also charge up your mobile devices. How cool is that? It is compact and lightweight making it easy to take with you anywhere!
Features:
Compact, Ergonomic and Lightweight.
Bright and long life built in Li-Ion battery.
3 functions (High Beam, Low Beam and Strobe – or quick burst mode)
Rechargeable via USB (no changing of batteries required)
Battery Bank. Use this charge up your mobile devices on the go!
Slim and sleek design.
USB to micro USB cable included.
Promo will run strictly from May 1 to May 31, 2021. Balikbayan boxes must be sent between these dates to qualify.
There is no limit to the number of boxes you can send, so the more you send the more freebies you get!
Don't wait 'til the last minute because stocks are limited based on our order and they may run out before the promo period.
Contact Forex Cargo today to book your box delivery and pick up! Happy Forex De Mayo!