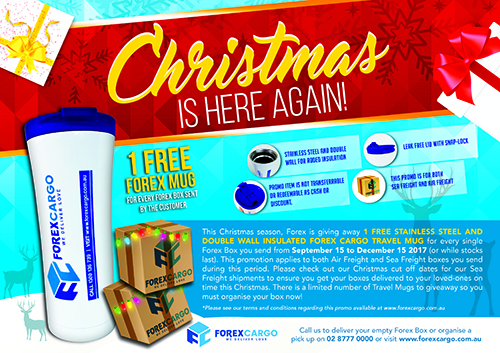 What a wonderful time of year it is when we start feel the spirit of Christmas is on its way. Christmas decorations start to shine, families putting up the tree and we start to hear the wonderful songs find its way back into our playlist.
More importantly, we have always been taught that Christmas is time of celebration and giving. Celebrating with our families and friends as well as giving to our loved-ones. No one gets more excited about Christmas than our families back home in the Philippines and they know that we are often thinking of them. You can almost see the smile on the faces as they open up their newly delivered Balikbayan box. You made it happen.
The Filipino spirit and culture is unique and we must celebrate it. Be proud of who we are, how we act and what we do for our loved ones back in the Philippines. Be part of something special again this year, send them a box filled with love.
This Christmas season, Forex Cargo Australia is giving away 1 Free Stainless Steel and Double Wall Insulated Forex Cargo Travel Mug for every single Forex Box you send from September 15 to December 15 2017 (or while stocks last). This promotion applies to both Air Freight and Sea Freight boxes you send during this period. Please check out our Christmas cut off dates for our Sea Freight shipments to ensure you get your boxes delivered to your loved-ones on time this Christmas. There is a limited number of Travel Mugs to giveaway so you must organise your box now!
Contact us to deliver your empty Forex Box or organise a pick up on 02 8777 0000 or visit www.forexcargo.com.au
*Promo giveaway is limited in stock and if stocks run out, item will not be re-ordered or replaced.
*Promo item is not transferrable or redeemable as cash or discount.