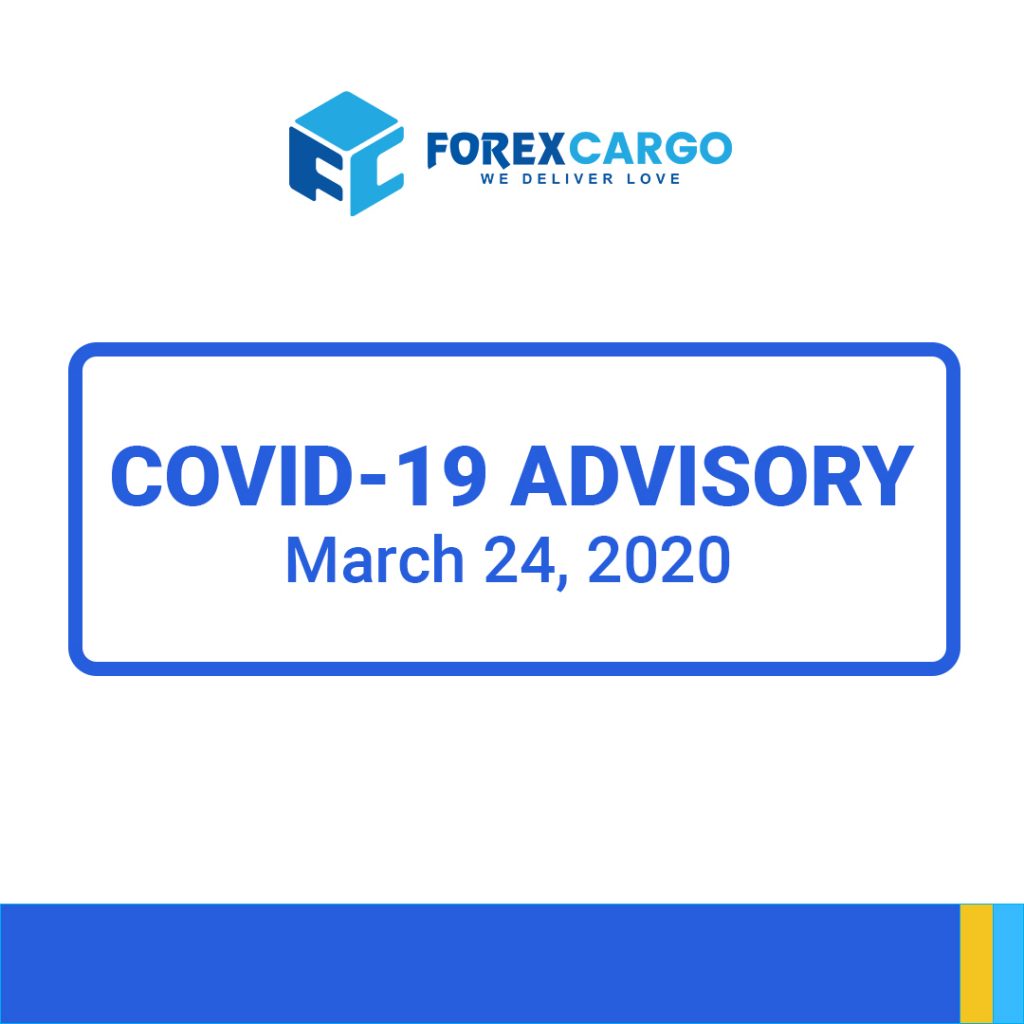 COVID-19 ADVISORY
March 24, 2020
( SEA FREIGHT CONTINUES OPERATIONS )
To our valued Customers,

Firstly, we would like to wish you and your families all the best as we all go through this challenging and unprecedented times. Forex would like to wish you all good health and encourage you all to continue to practice safe social distancing and good hygiene during this time and let us all beat this together.

SEA FREIGHT OPERATES AS NORMAL

Forex Cargo stays open for business during the Government's lock down measures and we would like to advise our sea freight service continues as normal and we are happy to be of continued service to you.

AUSTRALIA. With the recent announcement by Prime Minister Morrison regarding Stage 1 Rules of the Corona Virus Measures imposed by the Australian Government affects only non-essential places of gathering as listed on this link. In addition, there have been no changes to the movement of vessels traveling across the globe allowing us to operate, ship and deliver to the containers as normal.

PHILIPPINES. The Philippines Government over the last week has enforced Enhanced Community Quarantine which has restricted movement of people going in and out Metro Manila, closed eating and shopping establishments to name a few. They have made it clear that CARGO will be allowed to travel and do their work unhampered which is great. Our distribution in the Philippines have confirmed that they are able to move around and outside of Metro Manila meaning deliveries to Visayas and Mindanao are also being done.

WHY NOW IS A GOOD TIME TO SEND YOUR BALIKBAYAN BOX.
With the above being said, this is a really good time to send your boxes to your families in the Philippines with food and clothes as we do not know how much access they may have to food and services during this enhanced quarantine period.

AIRFREIGHT – SUSPENDED
Due to airlines stopping their travel, all Air Freight services are currently suspended until further notice. Boxes you intended to send via Airfreight can be sent by sea freight during this period.

CONTACT US:
Our call centre staff are currently working from home and have limited access to our phone system so if you have any difficulties speaking to us over the phone please make use our Online Cargo System to order your box or book a pick up, you can also use our Forex Live Chat available on our website www.forexcargo.com.au where we have staff ready to assist you during our operating hours (9am to 6pm). We are doing all we can to have as little disruption as possible and we thank you for your patience.