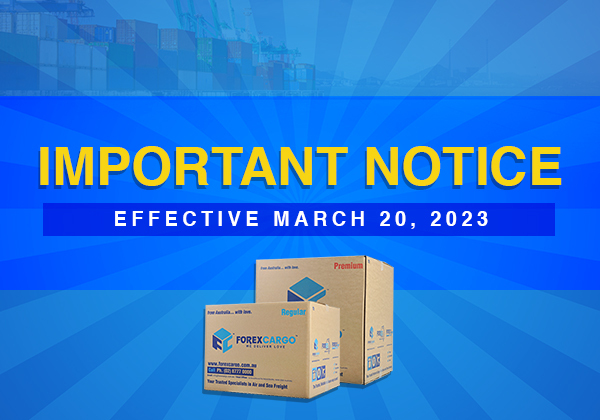 Dear valued Customers,


We hope this message finds you well. Since 1997, Forex Cargo has been dedicated to providing door-to-door balikbayan services to Filipinos here in Australia. We are grateful for your continued support and trust in our services over the past 26 years.
Unfortunately, we must inform you that we are experiencing a significant increase in shipping costs due to the rising prices associated with delivering from our Sydney warehouse to the home of your loved ones. Over the past few years, shipping costs have risen by over 100%, and the production costs of our heavy-duty boxes have also increased by over 55%. As a result, we have been forced to increase our prices by $10 effective March 20, 2023. Please note that this pricing change does not account for any increases in local charges.
We want to assure you that we have made every effort to keep our prices as low as possible while maintaining the quality of our service, however, we can no longer absorb these additional costs.
We value your loyalty and support and remain committed to providing you with the highest quality service available. If you have any questions or concerns, please do not hesitate to contact us.

Thank you for your understanding.

Sincerely,
Forex Cargo Pty Ltd


Please note that our prices have remained the same for the past 26 years, despite the rise in costs, until now.