We would like to inform you of a delay in releasing containers from Manila Ports. In preparation for the entry of the typhoon Ulysses (VAMCO), Manila Port Authorities announced that there will be a gate and port closure today, November 11, resumption of full port operations is on November 12 if weather permits.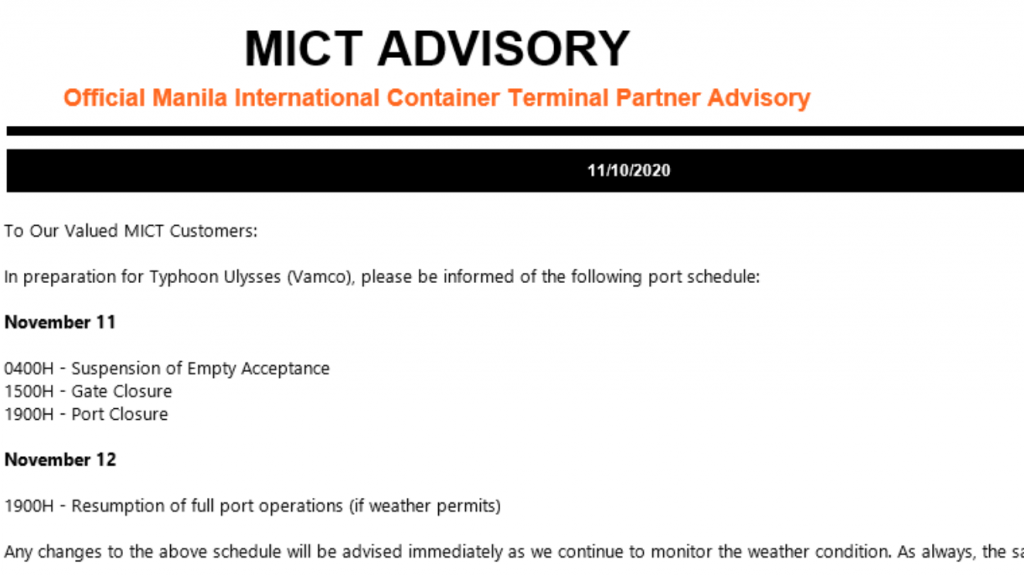 With that in mind, there will be also delays and interruptions of box delivery in typhoon affected areas such as Southern Luzon and Eastern Visayas and due to port operations being cancelled.
Rest assured that we have since notified our distribution team in the Philippines to expedite the delivery of affected Balikbayan Boxes as soon as possible.
Kindly take the necessary precautions for your loved ones to prepare for this typhoon, and we hope for everyone's safety.
Thank you for your understanding and please feel free to track the progress of your boxes online.
If you have any questions, please feel free to contact Customer Service at the following:
Chat with us via WebChat https://bit.ly/forexwebchat
or via Facebook https://m.me/auforexcargo
Phone:
NSW,ACT: 02 87770000
SA,NT,WA: 08 6393 7200
QLD: 07 3463 8809
VIC,TAS: 03 8736 7687
Or Drop us a message at https://www.forexcargo.com.au/contact-us
Email us at customercare@forexcargo.com.au
Stay Safe!
Best Regards,