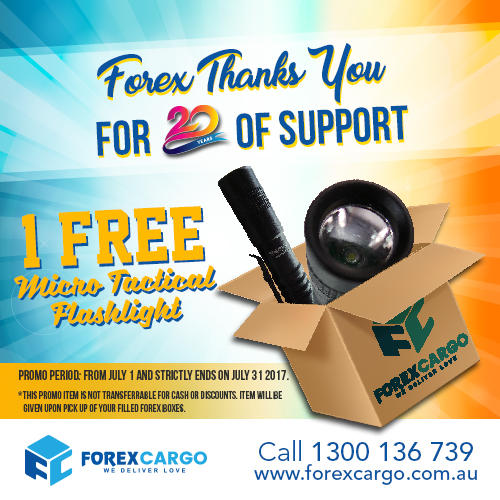 Forex Celebrates an awesome 20 Years of operation in Australia this July 2017. What once was a simply a vision and desire by our founder Mrs Ines Campos to assist her fellow Filipino's in Australia who needed to send packages and money to their loved ones back in the Philippines has grown to be one of the most reliable and trusted Filipino brands in Australia. Although Mrs Campos has sadly passed on some years ago, her family have continued her passion and legacy in bringing you services you can truly rely on.
To help celebrate our 20 Year Anniversary, we are giving away 1 Free Micro Tactical Flashlight for every Forex box you send during the month of July 2017. This means, if you send 2 packages, you receive 2 flashlights and so on!
Don't miss out on this exclusive and limited offer. CONTACT FOREX NOW! Organize to have your boxes picked up during our Anniversary month.